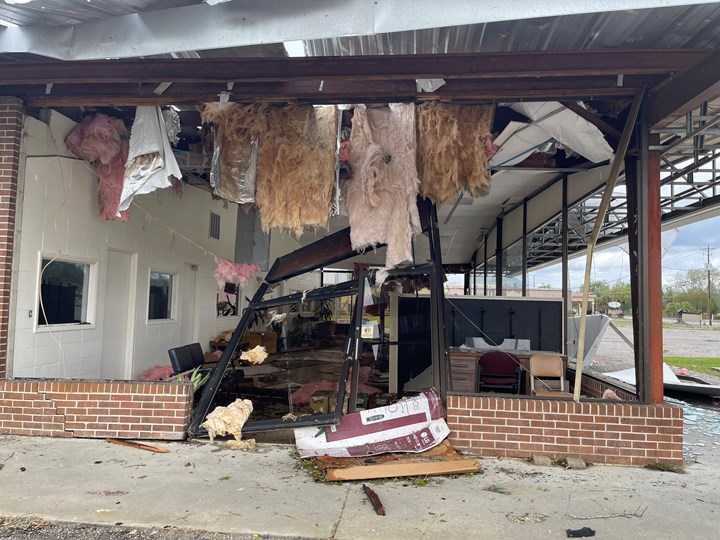 Columbia, S.C. (Thursday, April 7, 2022) – The South Carolina Emergency Management Division and local emergency managers continue to assess damage in counties impacted by this week's severe weather and tornados. No deaths have been reported as a result of these storms in South Carolina.
As of 3 p.m. today, the SCEMD Recovery Section reports damage in the following counties:
Allendale: Four homes destroyed, 11 homes damaged, 15 homes impacted in total. Local emergency management officials reported three non-life-threatening injuries.
Bamberg: Five homes destroyed, 15 homes damaged, 20 homes impacted in total.
Clarendon: Three homes destroyed.
Horry: Five homes damaged, none destroyed.
Orangeburg:  Two homes destroyed, 10 homes damaged, 12 homes impacted in total.
With more detailed assessments ongoing, damage estimates will be revised in the coming days.
Tornado survey teams with the National Weather Service have confirmed at least five tornados ranging from ESF-1 to EF-3 intensities. Meteorologists identified damage consistent with an EF-3 tornado in Allendale County. NWS surveys will also continue.
Residents should report storm damage to their local officials or by using the damage assessment tool in the SC Emergency Manager mobile app in the Apple App Store (https://itunes.apple.com/us/app/sc-emergency-manager/id1378105431?mt=8) and on Google Play (https://play.google.com/store/apps/details?id=org.scemd.app).