The South Carolina Emergency Management Division has partnered with the South Carolina Department of Public Safety (SCDPS), the lead agency for emergency traffic management, and the SC Department of Transportation (SCDOT) to provide information that pertains to emergency traffic management in the event of a hurricane. This page provides a summary of frequently asked questions regarding hurricane traffic and evacuation issues. As with any large-scale public safety emergency, it is vital to ensure that the most consistent, accurate and timely information is provided to residents so they can make informed decisions regarding their personal safety.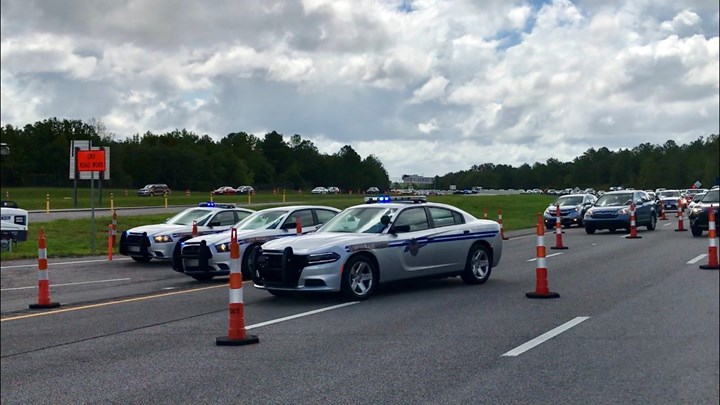 Preparing for Hurricane Season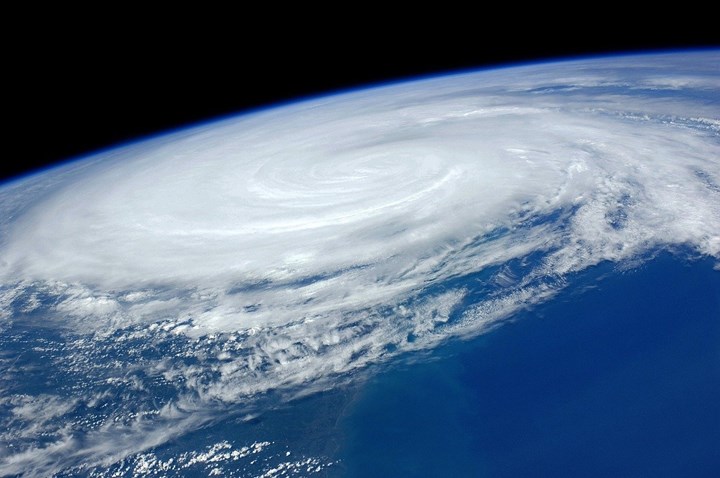 How does the public obtain general information regarding preparations for hurricane season?
SCEMD provides a comprehensive guide regarding preparations for hurricane season, how to "Know Your Zone," evacuation routes and other critically important information. Visit our web site to download a copy of the South Carolina Hurricane Guide.
How does the public prepare for a possible hurricane evacuation with the threat of COVID-19?
SCEMD has issued specific guidance for staying safe during Hurricane Season, asking everyone to keep in mind "Time, Space, People, Place" when making hurricane preparations. SCEMD reminds residents that when it comes to planning for a hurricane, the public should recognize the danger of a hurricane poses a greater, immediate threat to personal safety. Those evacuating should take as many precautions as possible to limit the spread of COVID-19, but the top safety priority should be evacuating away from storm surge and seeking safety from high winds.
How does the public need to prepare for travel before an evacuation order?
Hurricane Evacuation Efforts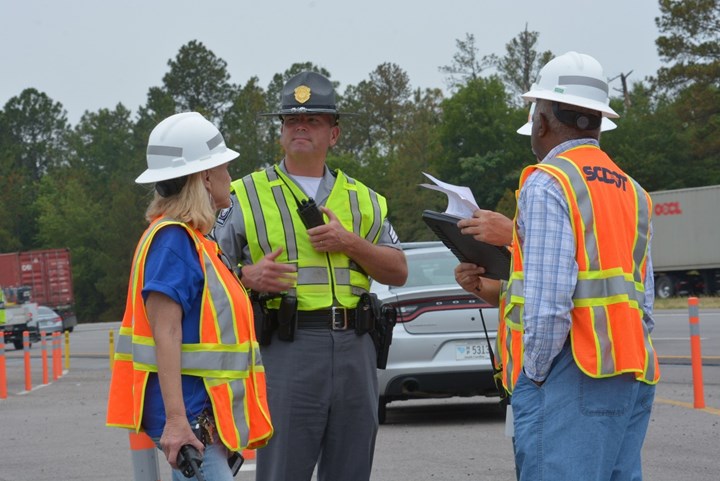 Which agencies are responsible for coordinating hurricane evacuation efforts?
While numerous state agencies play critical roles during hurricane evacuation efforts, SCDPS, through its Emergency Traffic Management Unit, is tasked with ensuring the safe and effective management of traffic during various emergency events in coordination with SCEMD. SCDPS is supported during these times by the South Carolina Department of Transportation (SCDOT), South Carolina Law Enforcement Division (SLED), South Carolina Department of Natural Resources (SCDNR), South Carolina Department of Probation, Parole, and Pardon Services (SCPPP), South Carolina Forestry Commission (SCFC), and South Carolina National Guard (SCARNG). SCDPS will evacuate threatened areas according to the time tables established by SCEMD and outlined by the South Carolina Hurricane Plan.
How do I know if I need to evacuate?
State and local authorities will announce evacuations by predesignated zones. Visit SCEMD's "Know Your Zone" and become familiar before a hurricane threatens our coast. 
How do motorists know their evacuation routes?
There are 35 evacuation routes statewide. There is SCDOT hurricane route signage along evacuation routes to assist motorists participating in evacuations. Digital maps illustrating these routes are located on the SCDOT website and can be found under the Travel section in Emergency Response.
In addition, a direct link to the statewide evacuation route map may also be found at:
Can motorists use their GPS to follow official evacuation routes?
Motorists should know their zone and evacuation routes and follow those when an evacuation is ordered. These will correspond with the blue hurricane evacuation signs posted along the highway. Motorists should follow those signs and not their GPS device, which may not follow the evacuation routes.
How many law enforcement officers and agencies will be assisting with the evacuation? Are there other agencies involved with evacuation efforts and if so, how many officers are assisting?
Personnel numbers according to the South Carolina Hurricane Plan.
* These numbers are approximate and subject to vary slightly. 
The SC Department of Transportation has around 751 personnel assigned in support of hurricane operations including 131 for the Northern region; 234 for the Southern; 146 for the Central (Columbia); 85 for the Central (Orangeburg) and 155 for the Central (Charleston).
What do motorists need to know about staying safe during the evacuation?
State and local law enforcement, SC National Guard and SCDOT officials work together to keep motorists safe throughout the evacuation period. Motorists must exercise patience and remember that traffic control devices, such as barricades, are in place for their safety. They should not move cones, barricades or other equipment to drive around. This can pose a serious hazard. Additionally, motorists need to move over for and yield to law enforcement and emergency vehicles.
Will restrooms be available along evacuation routes?
Some rest areas along I-26 will be enhanced with additional facilities in order to accommodate motorists efficiently. SC Department of Public Safety State Transport Police weigh stations will also be available as comfort stations.
What if motorists experience a vehicle emergency or their vehicle breaks down during an evacuation?
If motorists have a minor collision along the evacuation route, they should move their vehicle out of the flow of traffic, if possible, and if there are no injuries, according to South Carolina law. Call *HP for assistance. During evacuation operations, SCHP telecommunications personnel will conduct all emergency communications in accordance with established standard operating procedures and will ensure that all incidents occurring within an evacuation route are given priority over all other emergency calls.
*Be sure to keep any cell phone calls brief to minimize network congestion. Wait at least 10 seconds before redialing a call. For non-emergencies, try sending text messages from your mobile device. Motorists should limit non-emergency calls during the state of emergency.
What happens if motorists travel after the official evacuation window or during the storm?
Evacuation operations will stop and law enforcement and SCDOT crews will seek shelter at safe locations outside storm's projected path before the onset of tropical storm force winds (sustained 39 mph). Based on the storm's projected path, along with predicted storm surge and high tides, roads may be inaccessible due to flooding; bridges may be closed due to high winds and emergency help may not be available.
How do travelers get the latest information and news regarding the evacuation?
SCEMD is the primary source for information during a state of emergency.
For information regarding travel conditions:
SC Department of Transportation:

 

https://www.511sc.org/. Motorists may use SCDOT's 511 application for travel information which also includes a hurricane evacuation route layer. The application website is listed below, and it can be also downloaded for smartphone use by searching 511SC in an app store.
Lane Reversals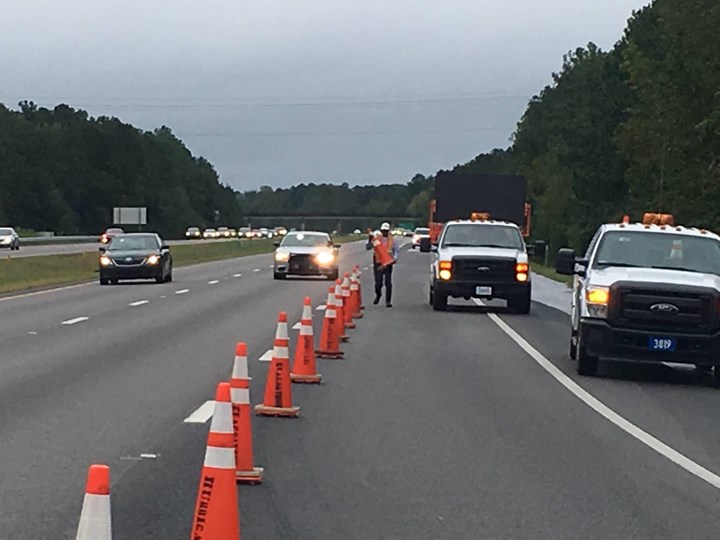 How do I know what to do if lanes are reversed in my zone?
The following roadways in certain areas may be subject to reversal in the event of a hurricane evacuation: U.S. 501, U.S. 278, U.S. 21, and I-26. Motorists need to be aware that a lane-reversal is a multi-step process by officials. During the set-up and initiation of the lane reversal process, ALL ENTRY POINTS TO THE REVERSED LANES WILL BE CLOSED.
Step-by-step evacuation, reversal information
Follow SCEMD, SCDPS and SCDOT on Facebook and Twitter.
Is there a new process for how the I-26 lane reversal work?
There are some modifications to the process in the I-26 reversal to help ensure the smooth flow and distribution of traffic during the evacuation process. If a reversal of I-26 is ordered, SCDPS law enforcement, along with SCDOT crews, will begin by closing exits along the lanes to be reversed. Once the exits have been closed, the SC Highway Patrol will use troopers to "flush" the reversed lanes – making sure all exits are secure before the reversal begins.
Motorists should be aware of the following adjustment to traffic patterns for hurricane season: Westbound traffic in lane number one (inside left lane) will enter the crossover near mile marker 197, just west of the Nexton Parkway interchange. Traffic will exit the crossover into the reversed lanes of Interstate 26. Westbound traffic in lanes two and three (center and far right lane) will continue straight in the normal Westbound lanes.
SCDOT Lane Reversal Improvement Video
Where can motorists exit during the evacuation of I-26?
Motorists should follow the directions of law enforcement once on the evacuation routes.
From the reversed lanes (Eastbound lanes) of I-26, the following ramps allow exit:
Exit 187, SC 27; Exit 165 – SC210; Exit 159 – Homestead Road; Exit 149 – SC 33; Exit 139 – Burke Road; Exit 129 – U.S. 21; Exit 125 – Old Sandy Run Road.
This is subject to change.
What happens when motorists reach the crossover in Columbia at I-26 and I-77?
Motorists should be aware of the following adjustment to traffic patterns for the upcoming hurricane season: Troopers will lead traffic from the new crossover near the Nexton Interchange in Summerville to Columbia. All traffic at this time will be moving Westbound only. Once traffic reaches the crossover on I-26 near I-77 in Columbia, traffic in lane number three (far right lane) on the normal Westbound lanes will take I-77 Northbound. All other normal Westbound lanes and the traffic exiting the reversed lanes will stay on I-26 Westbound. No traffic from the reversed lanes will be allowed to enter I-77 North.
Travel AFTER the storm passes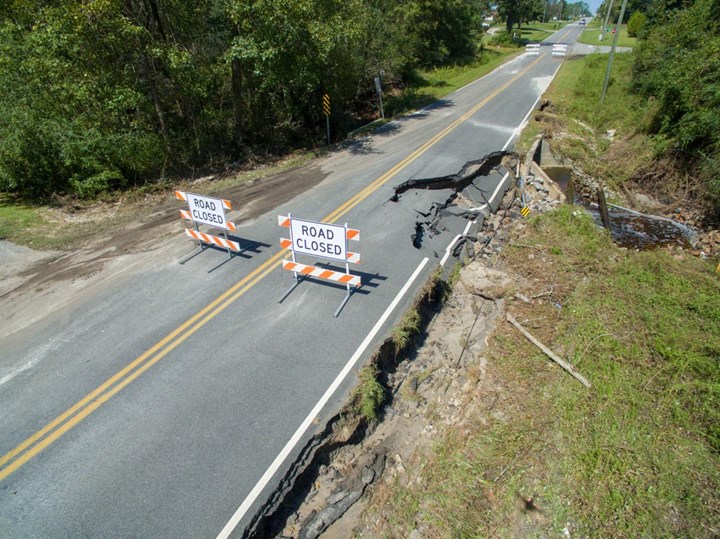 What should motorists know about after the storm?
The greatest threat to life and property associated with a hurricane and tropical storm is storm surge. Other effects include high winds, tornadoes, and inland flooding associated with heavy rainfall that usually accompanies these storms. Once the storm passes, be patient. You will most likely not be able to return home right away. Once motorists are allowed to drive again, they should:
Avoid downed and sagging power lines. Report them immediately to the power company, police or fire department.
Be alert for driving restrictions.
Avoid flooded roads and washed-out bridges and roadways.
Follow directions provided by public safety officials.
** You can take steps to minimize the loss of life or property during a hurricane. Remember, if a hurricane occurs, emergency responders may not be able to immediately reach you. You should be prepared to be self-sustaining for at least three days.
How will the public know when they can travel back to areas that were evacuated?
Local public safety officials manage the entry to previously evacuated communities. Residents should follow the directions provided by county and local governments to safely return to their homes.
Will there be delays for motorists re-entering after a hurricane?
Returning residents should prepare for extended travel times and congestion. For traffic updates and information, visit 511sc.org.