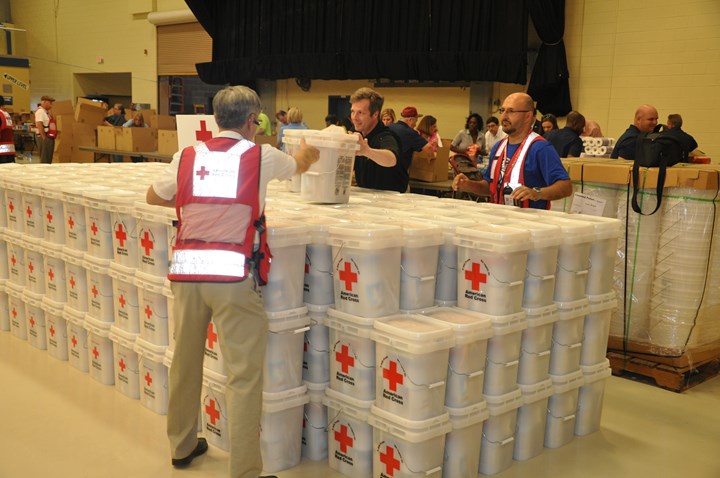 Donations - One SC Fund
When the 2015 Thousand Year Flood and Hurricanes Matthew and Irma left many South Carolinians in need of disaster assistance, generous donations made to the One SC fund helped meet their needs. Like those previous disasters, Hurricane Florence has the potential to cause severe damage across the state, generating immediate and long-term needs for citizens. These needs must be met effectively and efficiently. As donated products for disaster relief require transportation, warehousing and distribution, the most effective way to give is to make a monetary donation through the One SC fund.
The One SC fund is used to support nonprofit organizations providing relief and recovery assistance to South Carolinians impacted by natural disasters. These organizations will use your donation to purchase items required to meet the needs of disaster survivors.
We also encourage you to donate locally to food pantries, faith-based organizations and other nonprofits. If you wish to make a direct donation, contact any of the South Carolina Voluntary Organizations Active in Disasters (SCVOADs) listed at the bottom of the page.
Volunteer Services
Thank you for your interest in volunteering to assist those impacted by Hurricane Florence. The state of South Carolina is asking volunteers to NOT SELF-DEPLOY, as unexpectedly showing up to communities impacted by the hurricane will create an additional burden for first responders. Many volunteer opportunities require specialized training, and we want to ensure all volunteers are safe during recovery operations.
We recommend that you consider volunteering within your own networks or GET AFFILIATED with a voluntary organization active in disasters. To find local volunteer opportunities, contact any of the South Carolina Voluntary Organizations Active in Disasters (SCVOADs) listed below.
If you are not affiliated with a group and would like to volunteer, please register at VolunteerSC.org. The site, maintained by the United Way Association of South Carolina, matches volunteers with appropriate opportunities to help once officials assess the storm damage.
We encourage you to be patient as you wait for notification of an opportunity to volunteer. The need for volunteers will continue for months and possibly years after the disaster.Once public officials and disaster relief organizations identify the specific unmet needs, you will be contacted.
Clothing
We are not directly accepting used clothing items. However, we are requesting that any in-state clothing donations be taken to a charitable organization within your community.These organizations already have the resources to make the best use of clothing donations.
Food
We are requesting that South Carolina citizens take collected food items to local food banks or other charitable organizations. These local food banks and organizations work with us and will distribute food to the survivors in South Carolina and other impacted areas. If you will be conducting a food drive for disaster relief, please contact the South Carolina Food Bank Association to get information on most-needed items.
S.C. Voluntary Organizations Active in Disasters (SCVOAD)
One SC Flood Relief Fund
 
The One SC Fund supports and directs funds to nonprofit organizations providing relief and recovery assistance to South Carolina disaster survivors.
S.C. Food Bank Association
 
The South Carolina Food Bank Association and its four member food banks provide food, water, and other needed goods to disaster survivors across the state.

Golden Harvest Food Bank: serving Abbeville, Allendale, Aiken, Anderson, Bamberg, Barnwell, Edgefield, Greenwood, McCormick, Oconee, and Pickens counties.

Harvest Hope Food Bank: serving Calhoun, Chester, Chesterfield, Clarendon, Darlington, Dillon, Fairfield, Florence, Greenville, Kershaw, Laurens, Lee, Lexington, Marion, Marlboro, Newberry, Orangeburg, Richland, Saluda and Sumter counties.

Lowcountry Food Bank: serving Beaufort, Berkeley, Charleston, Colleton, Dorchester, Georgetown, Hampton, Horry, Jasper, and Williamsburg counties.

Second Harvest Food Bank: serving Cherokee, Lancaster, Spartanburg, Union, and York counties.

Feeding America: provides food and support to the South Carolina Food Bank Association and its four member organizations in disaster relief efforts.
Disaster Relief Organizations

Adventist Community Services 
1.877.227.2702
Adventist Community Services provides donated goods warehouse management and distribution to impacted areas.
Amazon is providing a link on its website that allows people to donate to various disaster relief efforts.
American Red Cross of South Carolina 
1.800.435.7669
The American Red Cross provides feeding, short term sheltering, mental health counseling, and disaster case management.
Community Foundation of the Lowcountry
843.681.9100
The Community Foundation of the Lowcountry Disaster Recovery and Rebuilding Fund provides resources for emergency needs in the event of a disaster in the four-county service area of Beaufort, Jasper, Hampton and Colleton Counties.
Crisis Cleanup
1.800.451.1954
Crisis Cleanup collects and shares information of citizens in need of help cleaning up their houses with civic and relief organizations. The public may request assistance by calling the number listed above. Crews may register through the website to access cleanup requests.
Disaster Help Me-Horry County Disaster Relief
Horry County is only using Disaster Help Me to register volunteers to assist with disaster relief efforts for that county.
Lutheran Disaster Response 
1.800.638.3522
Lutheran Disaster Response helps with long-term recovery including cleanup and rebuilds.
Presbyterian Disaster Assistance
1.866.732.6121
Presbyterian Disaster Assistance sets up "Volunteer Villages" to house volunteers for rebuilding.
Salvation Army 
1.800.725.2769
The Salvation Army provides sheltering, food service and delivery, and disaster case management.
Samaritan's Purse 
1.800.528.1980
Samaritan's Purse mobilizes staff and equipment and enlists volunteers to provide emergency aid to survivors of natural disasters.
Southern Baptist Convention Disaster Relief
803.227.6031
Southern Baptist Disaster Relief provides food service preparation and cooking, muck removal, debris removal, and rebuilds.
United Methodist Committee on Relief
1.800.554.8583
The United Methodist Committee on Relief provides supplies and care in the immediate aftermath of a disaster and supports long-term rebuilding efforts.
United Way of South Carolina
803.929.1000
The United Way of South Carolina coordinates volunteers for disaster response and recovery.