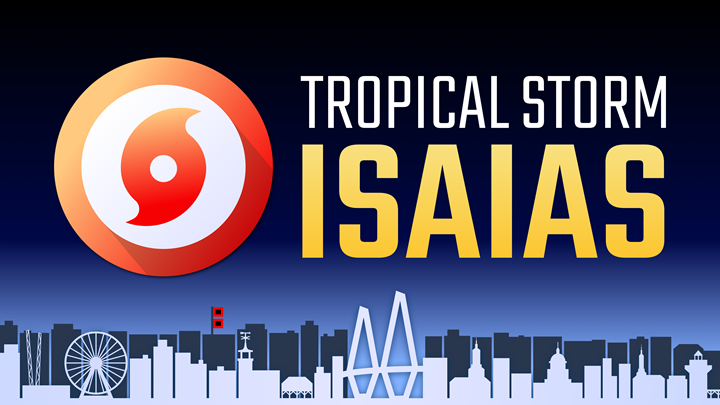 COLUMBIA, S.C. – Residents in potentially vulnerable areas should finish storm preparations and limit all unnecessary travel this evening as storm conditions worsen. The National Hurricane Center predicts Tropical Storm Isaias will make landfall tonight as a hurricane. Residents should continue to monitor the official forecasts from the National Hurricane Center, local media and official, verified social media accounts from public safety agencies for the latest information.
Forecasters predict the greatest impacts are expected in the northeastern part of the state, particularly the coast in Horry and Georgetown counties. Hurricane force winds will occur along the coast as the storm travels along the coast. Downed trees and power lines are likely. Heavy rainfall will result in flash flooding. Minor to moderate river flooding is also possible across portions of the state. Isolated tornadoes are also possible.
Be aware of potential flash flooding:
If there is any possibility of a flash flood, move to higher ground. Do not wait to be told to move.
Do not walk through moving water. Three to six inches of moving water can make you fall. If you have to walk in water, walk where the water is not moving. Use a stick to check the firmness of the ground in front of you.
Do not drive into flooded areas. If floodwaters rise around your car, abandon the car and move to higher ground if you can do so safely. You and the vehicle can be quickly swept away.
Do not ever try to drive around or move barricades that are blocking a street.
Be cautious of downed trees and power lines:
Never touch or attempt to remove fallen limbs from downed or sagging power lines.
Always report downed lines to your utility provider. Never call 9-1-1 to report downed power lines or power outages.
Keep children and pets away from fallen electric lines.
Have a plan for where you will go if conditions become too unsafe for you to remain in your home. Residents who live in mobile homes or in low lying areas prone to flooding need to consider staying elsewhere during the storm. Stay with friends and family as a first option. Go to a motel or hotel, if possible.
The South Carolina Emergency Response Team remains at Operational Condition Level Two for COVID-19 response and for Tropical Storm Isaias. As a precautionary measure in anticipation of possible effects on South Carolina from Isaias, the state began 24-hour staffing of the State Emergency Operations Center today. Some key state response agencies are coordinating response efforts virtually so personnel present inside the State Emergency Operations Center can maintain proper social distancing at assigned work stations.
SCEMD's website, scemd.org, and the SC Emergency Manager mobile app will be updated with the best available information for residents.